Tumblebug really enjoys the opposites books by Leslie Patricelli.  We have BIG little, Yummy Yucky, and Quiet Loud. He loves to be able to point at the things he knows.  I wanted to make him more books with a personal feel.  I made a book for his classroom with photos of items in their classroom that are mostly a color.  It was a hit and I have made more copies for students that have moved to a different class.
I went through my photos and chose examples of things that are similar, but way different sizes, just like in the book BIG little.  I also took more pictures throughout the summer to add to the book.  Some examples are much better than others.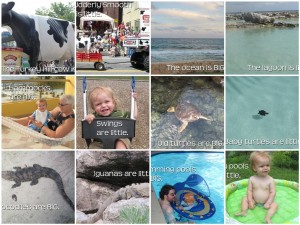 I used Photoshop to add the text to each picture but you can also use Picnik or any other photo editing software that lets you add text.  I went with the text from the book: Elephants are BIG. Mice are little.
Some of the pictures are things that are similar and some are things that go together, but they are all things Tumblebug should recognize down the road.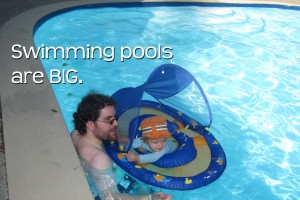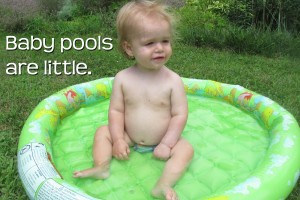 Once I developed all the photos I just stuck them in a cheap plastic photo album.  I used a picture of my dad and Tumblebug as the cover.  There are still empty pages, so I am going to find more BIG and little things to add.